Hi There, I'm Adeola, and in this post, I'll be sharing a complete guide on how to get started on Pinterest for your business. This guide details my 20-point Pinterest optimization checklist. You can download this checklist free of charge by clicking the link or image in this post.

Should you be interested in working with me on your Pinterest strategies for your hair brand or beauty business, please don't hesitate to contact me.
Before I get into this post, I first want to share a few stats about Pinterest.
1. Pinterest is a visual search engine, NOT a social media platform

2. Pinterest drives 10x more traffic than Facebook and Instagram combined

3. 55% of Pinterest users are looking specifically for products

4. Pinterest users spend 29% more while shopping than non-users

5. 88% of Pinterest users purchase a product they pinned
In this post, I will be sharing exactly what I do to optimize new clients account for increased traffic and sales conversion. If you'll do these things, I'm confident that you'll also see a significant change in your business.
By the way, I created a detailed video tutorial at the end of this post that details how to set up an optimized Pinterest business account.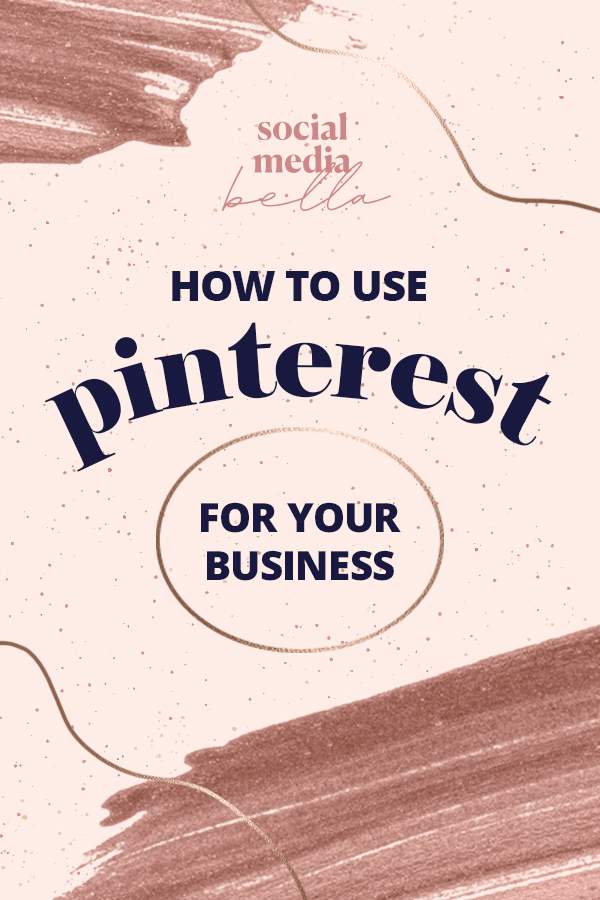 Twenty Point Pinterest Optimization Guide
1. Open a Business Account
You can either choose to open a brand new business account or convert your current account to a business account. If you use Pinterest heavily for personal use, then I suggest opening another account just for your business. You can then leave your personal account for your personal use.
Like any other search engine, Pinterest tracks your web activity and recommends pins based on your activity. So if you made a search for pasta recipes on your business account which is about a shoe business, Pinterest will start recommending more food recipes to you.
To avoid messing up with the algorithm, it's best to have separate accounts for personal use and business use.
2. Have a Beautiful and Memorable Profile Picture
This can either be a personal picture of yourself, lifestyle shot of your products, company logo, a picture of your service, offer or something very important.
3. Have a Search Engine Optimized Profile Name
You want to increase your chances of getting discovered by your target customers as much as possible. One of the ways to do that is to add keywords you want to rank for in strategic places on your profile.
Remember that Pinterest is a search engine, and when a keyword is searched for on Pinterest, a profile with the target keyword will be recommended. This means that if you sell curly hair products and you'd like to reach curly haired Pinners on Pinterest, you should add keywords like "curly hair products" to your profile name.
So your profile name will be "Brand Name + Keyword".
Related Post: 15 Places to Include Keywords on Pinterest
4. Write a Keyword Rich Profile Description.
After your ideal audience finds you on Pinterest, the next thing they will do is to checkout your profile to see what you're all about. Upon arriving on your profile, the first thing they will be looking for is what's in it for them.
This is where you get to sell them on your business so that they can follow you, visit your site, buy your products and share your content with their followers.
For businesses, your profile description should answer how your products solves your customers problems, frustrations, and pain-points. It can also include how your products meets their desires, wishes and goals. You should also add important information such as any promotion, free shipping and offers.
5. Claim Your Store URL
A claimed profile will have a check mark like the image above. Claiming your URL gives you many Pinterest features such as analytics, Pinterest ads, and access to rich pins.
To do this, simply go to your settings tab and follow the instructions. If you're not tech savvy, I suggest working with your web developer to get this done. There are also a few YouTube tutorials that shows you how to do this.
Resource: Pinterest's Guide on How To Claim Your Store on All Platforms
6. Claim your Etsy store, YouTube and Instagram
If you have these platforms, you should also claim these accounts on Pinterest. This way, when someone pins a content from your YouTube, Instagram and Etsy store, your account will be credited for it.
This means more exposure, views, impressions and followers, even though you didn't add those posts to Pinterest, someone else did! Isn't that cool?
To do this, just go to your settings tab, it's very easy and it only takes a few minutes.
7. Apply for Rich Pins
Rich pins makes your pins stand out on Pinterest. There are four main types of rich pins. They are, product pins, article pins, recipe pins and app pins. If you have an e-commerce business, you can't afford not to have rich pins.
As an e-commerce business, when you pin a product from your store to Pinterest, it will display the product name, pricing and description of the product. It will also have a tag next to the title, which lets pinners know that it's a buyable pin.
When a Pinner clicks on the pin, it will take them directly to your store where they can purchase the product
RESOURCE: To apply for rich pins, please check out this article by Pinterest.
8. Create at least 10 Boards with Keyword Optimized board names
Another way to get discovered on Pinterest is through your board names. A popular mistake businesses make on Pinterest is that they create with random names that has nothing to do with their business and are not optimized for search engines.
If you want more people pinning your content and discovering you on Pinterest, you have to be strategic and purposeful. This means that you can't be creative and funny with your board names.
Your board names need to consist keywords that your target audience are typing into search engines.
For example, a curly hair product business will have board names such as curly hair conditioners, curl defining creams e.t.c.
When you have optimized board names such as these, it will be much easier for your audience to find you, follow you and engage with your content on Pinterest. This ultimately means increased traffic and sales!
You should also ensure that you categorize the boards under the appropriate category. e.g, your hair related boards will be classified under "hair and beauty".
Resource: If you don't know what keywords to use, please check out this blog post where I share 5 ways to do keyword research on Pinterest
9. Write an Engaging Board Description
Like your profile description, you also want to write an enticing board description that let's your readers and customers know that they're in the right place. Your board description should explain what the board is all about and what they can expect as a board member.
You should also include a strong call to action to get them to follow you or visit your store.
10. Create Board Sections
Rather than creating a bunch of boards that might get too complicated to manage and remember, you can create board sections instead.
For example, if you have a board dedicated to conditioners, you can have a board section for different types of conditioners e.g. leave-in conditioners, deep conditioners, co-wash, protein conditioners e.t.c.
You can then pin appropriate pin that relates to each board section under the appropriate board name.
11. Create Beautiful Board Cover Images
Now that you've created an optimized Pinterest account, you can now create board covers for your account. This only adds to the visual appeal of your profile, since Pinterest is a visual search engine.
12. Add at least 10 popular pins to each board to quickly boost your profile.
When you're starting out on Pinterest, you might not have enough content for each board. This is where you can pin related content to the appropriate board. Also when you create a new board, Pinterest will recommend related pins to you, so that you can fill up your boards with enough content that your audience will find useful.
I like to add pins with over 100 re-pins to my boards. To find popular pins, just go to your smart feed and click on the first few pins to see if it's a popular pin. You can also do a search that relates to that board to find popular pins.
RELATED POST: Top 32 Pinterest Categories You should know about as a business.
13. Create Beautiful Pin Images Of Your Products
This is actually what drives traffic to your blog.
What most people don't know yet is that Pinterest is a Visual Search Engine.
Before your readers and customers can see your posts on Pinterest, your images and videos must meet Pinterest's recommended image size before it gets through the algorithm.
Any vertically long image size will pass Pinterest's image requirements. Square images are also good.
But you want to avoid vertically wide images as much as possible. e.g. blog post covers, YouTube thumbnails and the like will get the least impressions because Pinterest will not display the image to your audience, even if it's a beautifully designed image.
So, if you want to leverage the power of Pinterest, you have to make sure that your images are vertically long and visually appealing so that they will catch the attention of your readers.
The more people interact with your content, the more Pinterest will show your pins to people who would be interested in your content.
If you're going to be using Canva to create your images, you can use the Pinterest template which is 735px X 1102px or Infographic which is 800px X 2000px.
To get an idea on how to create pins that gets a lot of traffic, you'll need to test out different templates to see which ones resonates the most with your audience. You can also look up high performing pins in your niche and similar niches to see which ones are popular.
RELATED POST: I've created optimized Pinterest cover templates you can get HERE
14. Create Pinterest Videos About Your Products
As an e-commerce business, you will probably have a few videos about your product. Either created by you or partnered influencers. To get more views on those videos, you should create 9:16 short videos under 5 minutes and upload it directly to Pinterest. Pinterest videos are gaining a lot more engagement than still images. So you should take advantage of Pinterest videos.
If you don't have a video for your business, you can create a video slideshow of your products or services and upload that.
15. Write a Search Engine Optimized Pin Description
After you've created an optimized pin that is also visually appealing, the next thing you want to do before posting it on Pinterest is to ensure that it's accompanied by an engaging description.
This is also where understanding your target audience's pain points and desires comes into place. Before posting an image or video on Pinterest, you want to accompany it with a keyword rich description that summarizes what that pin is all about and why a Pinner should click or save that post to their Pinterest board. You also want to include at least three keywords and a hashtag into that description.
RELATED POST: How to Upload and Schedule a Pin to Pinterest
16. Pin all your products to Pinterest
The main reason why you're on Pinterest is to drive traffic to your store. Therefore the next thing to do after creating an optimized profile is to pin all your products to Pinterest.
If you have a lot of products in your store, you can use Tailwind to schedule your products to go out at different times. I'm sure you don't have the time to pin 20 products at a time. Since you're going to be on Pinterest long term, you can take your time by spacing out your product uploads over a period of time.
And be sure to write a product description to go along each product, regardless of whether you have product rich pins set up.
If possible, only pin vertically long or square images, as any other size will not be shown to your audience.
17. Follow Pinterest Influencers in Your Niche
If you're new to Pinterest and don't really know how it works, I recommend following Pinterest influencers in your niche. These influencers know what works on the platform and they often post high quality pins that your audience will also find useful. If you're looking for pins to pin to your profile, you can get some content from these influencers.
You should also follow your competitors so that you can see what they're doing right that you can emulate.
RELATED POST: 3 Ways To Do Market Research on Pinterest and Spy on Your Competitors
18. Optimize Your Website for Pinterest
If you want your readers from Pinterest to sign up for your email list and eventually open their wallets for you, you will need a clean and professional looking website. You don't want to spend all this time optimizing your Pinterest profile, only for your website to send people away when they come over.
You should have a clean website that's optimized for mobile and is user friendly. You should have a privacy policy, return policy, shipping policy, contact us, and other pages that will make a new visitor to feel comfortable. It should also be easy to find your products and navigate your website.
Whenever possible, upload vertically long product images that a visitor can pin to Pinterest. You should also add social sharing plugins, so that your store visitors can easily share your products on Pinterest, Facebook or WhatsApp.
19. Schedule Your Pins Using A Scheduling Tool
You can't be on Pinterest all the time. To ensure that you get consistently passive traffic to your store, I recommend using Tailwind. Tailwind is the best Pinterest scheduling tool out there and you can schedule a month's worth of content in less than an hour. Tailwind also has unique features such as smart loop and tailwind tribes that allows you to quickly boost your impressions.
To get your first month free trial with Tailwind, click on my affiliate link here
20. Study Your Analytics
After you've been pinning for at least a month, the next thing you want to do is to get familiar with your analytics. At the beginning, I suggest looking at your impressions, clicks and saves on each pin. You can then set monthly goals to increase those numbers by 20% each month.
If you have pins with a high impression but very little clicks, you might want to take a look at the keyword, call to action, pin design, colors, fonts, imagery and the relevancy of the post.
Remember that each pin should solve your audience's problems. It should answer a "what's in it for me" question.
If your pin has a low impression, you should take a look at the size and create another pin with a more optimized size.
Ultimately, it takes time to figure out what works and master Pinterest.
If you need help with your Pinterest strategy, please be sure to check out our Pinterest Marketing Strategies.
RELATED POST: I've created sample Pinterest cover templates you can get HERE
Tutorial: How to Set Up A Pinterest Business Account
I created this video tutorial to show you step-by-step, how to set up a profitable Pinterest business account.
Here's what you'll learn:
1. How to create a new business account
2. How to select the best category for your profile
3. How to upload a professional profile picture
4. How to write a search engine optimized profile name and profile description
5. How to do keyword research on Pinterest
6. How to create and name your boards with SEO keywords
7. How to write a highly converting board description
8. How to change board covers and select the appropriate categories for your board
9. How to add new pins to your board
10. How to create new sections in boards and organize your Pinterest profile.
Should you have any question, please leave a comment below.
WHAT TO DO NEXT
1. Book your free 30 minutes consultation where we discuss how to use Pinterest for your business
2. Download your free 20 point checklist for setting up a Profitable Pinterest Profile.
3. Try tailwind free for a month